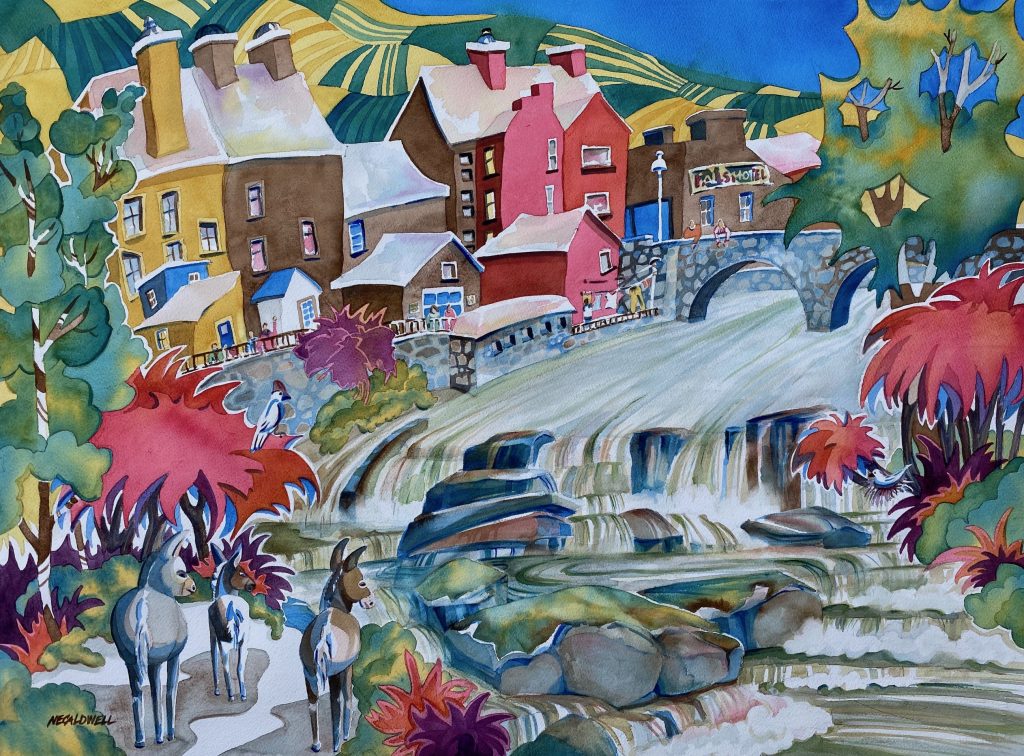 Nancy E. Caldwell
www. necaldwell.com
watercolors@necaldwell.com
N. E. Caldwell, biography
When I was four years old, I was asked what I wanted to be when I grew up. My answer was "I want to be a painter". As a child, I painted and drew all the time. In second grade I won a Giant Art Farm from Tom Hatton's Popeye Show. It was my favorite show because the kids drew pictures from a squiggle. I was thrilled when my "Bowl of Fruit" was shown on TV. I always knew I would be a painter one day.
Professionally, I became a licensed Landscape Architect. I ran a design business where designing gardens kept me engaged in the creative process. I had designs published in OC Home Magazine and was on Landscaper's Challenge on HGTV where one of my designs was built and featured on a Spring Special episode.
In 2008, my design business slowed down and my husband asked me what I always wanted to do. I told him I always wanted to paint watercolors. With great support from him, I started taking watercolor classes at Coastline Community College that Fall and the passion for creating art and watercolor painting was ignited.
I have doodled and day-dreamed my entire life. The writing pads in my house are usually full of scribbles. Day-dreaming is a happy place for me, one where I can imagine anything I want and objects can be at any angle, any shape, or in any color. I refer to my doodles as "Play Drawings".
When I first started putting these mental images into sketches and then into paintings it was very difficult to show them to people. I thought they would laugh and think they were dumb. I found the reaction to be somewhat surprising, people loved them. They are attracted by the lively colors and whimsical spirit.
My paintings are my thoughts on display and are very personal to me. These inspired creations only happening at the most unexpected times. I get into a zone and I am always amazed at what comes out. They are odd but fun.
Some of my paintings have context to real places. They are a narrative of my experience, my thoughts and my visualizations of those places. Many times, I put a figure in a painting that represents me as I am a traveler in my day dreams.
My main medium is transparent watercolor. I love how the paint and colors mix and mingle on the paper. It is fresh, new and exciting every time I paint. I liken watercolor to a game of Chess. The watercolor always responds in a way you least expect. Your next move depends on the watercolor's reaction to your last move. Sometimes you win and sometimes you lose but you always benefit from each experience. It is a wonderful, mind provoking challenge.
I hope you like my work.
Nancy
My Watercolor Accomplishments
Juried shows
Missouri Watercolor Society, International Show, Barcelona, Spain, 2020
National Watercolor Society, 2019, Alice Leonard Memorial Cash Award, Mijello Mission Merchandise, Gold Award, Gold Annual Artist Development Merchandise Award, Biafarin, Inc.
John Wayne Airport, Nov 14-Dec 13, 2018.
Oceanside Museum of Art/National Watercolor show, Dec. 2018.
Watercolor West International Transparent WC Soc., (2012, 2015, 2018). "Signature" status 10-2018.
Yosemite Renaissance 33, Gallery Museum, Yosemite Village, 2018.
Yosemite Renaissance 33, traveling show, 2018.
Orange County Fair (2009-2017. Various awards). 1st Place in 2017.
National Watercolor Society, 2015. "Signature" status 10-2015.
California Watercolor Association, 2015.
Orange County Collective Arts. Highest Honors, 2015.
Published Works and Museum Collection
Watercolor Artist Magazine, Ones to Watch, Dec. 2015.
Accepted into the Inland Empire Museum of Art permanent collection, 2014.
Sea Cliff Realty, Huntington Beach, calendar (Cover, "January" and Envelope), 2011
Non-juried and Invitational Shows
Jackie Dovorman Best in Show, Award-2019. Huntington Beach Art League.
"Woman in Art" – Sasse Museum of Art, 2019
"A Dialog with Nature" – Sasse Museum of Art, 2019
Huntington Beach Art League. (2009-2019, various awards) HBAL 2nd Best of Show-2016,
Jackie Dovorman Best in Show, Award-2017. Huntington Beach Art League.
"Waterworks Exhibition" – Hunt. Beach Art Center, 2018.
"Chris Van Winkle Retrospective", NWS, 2017.
"Two Create", Huntington Beach Art League (2-person exhibition), 2016.
"Tom Fong Memorial Exhibition", 2016.
"Henry Fukahara Memorial Exhibition", 2015.
"Coastline Community College Student Show (2009-2011, various awards), 1st place 2008
Volunteer Work:
Watercolor West Board, Recording Secretary, 2015-2017.
Mid Valley Arts CoOp, Class Coordinator, 2012-2018.
Yosemite Conservancy, Art Workshop Instructor
Huntington Beach Art League, Workshop Co-chair, 2 years
Other art interests:
Watercolor Instructor, Huntington Beach Art Center.
Painting demonstrations for workshops and art leagues.
200401nec